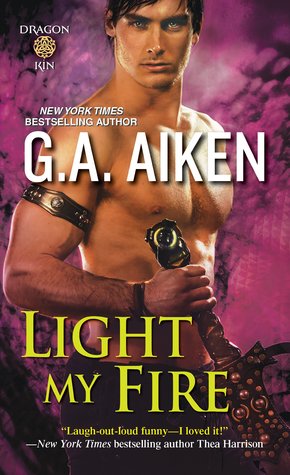 The trouble with humans is that they're far too sensitive. Forget you put a woman in the local jail for a few months--and she takes it so personally! And yet she is the one trying to assassinate the queen. And now I'm trapped with Elina Shestakova of the Black Bear Riders of the Midnight…gods! That endless name! But what am I to do? I am Celyn the Charming with direct orders from my queen to protect this unforgiving female. Even more shocking, this unforgiving female is completely unimpressed by me. How is that even possible? But I know what I want and, for the moment, I want her. And I'm sure that she, like all females, will learn to adore me. How could she not when I am just so damn charming?
Publisher: Zebra
Release Date: November 25th, 2014
Series: Pride Series
Buy The Book:


If I had to write a review with only one word, it would be BRILLIANT! Light My Fire is hysterically funny, sexy and action-packed, everything I absolutely love in a great Paranormal Romance novel.

I readily admit I was very nervous going into Light My Fire. It has been 2 years since the last Dragon Kin novel and I was worried I was going to be completely lost. I also admit, I read the blurbs of the previous novels just to help myself remember the names of the characters. That really helped and honestly, it wasn't very necessary. Aiken does a superb job in helping the reader get re-acclimated with the world and vast number of characters.

Despite clearly being a transitional novel, getting us ready for a huge war, Light My Fire doesn't feel like one. The adventure and heartbreak we go through is incredible and I loved every single moment of it.

If you enjoy your PNR sexy, epic and hilarious this is the series for you! I hope the Dragon Kin series goes on for a long time!