Magic Breaks {Kate Daniels #7}
by Ilona Andrews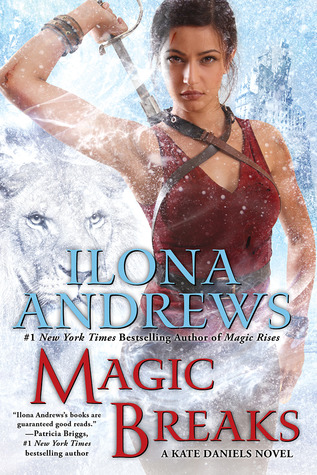 No matter how much the paranormal politics of Atlanta change, one thing always remains the same: if there's trouble, Kate Daniels will be in the middle of it…




As the mate of the Beast Lord, Curran, former mercenary Kate Daniels has more responsibilities than it seems possible to juggle. Not only is she still struggling to keep her investigative business afloat, she must now deal with the affairs of the pack, including preparing her people for attack from Roland, a cruel ancient being with god-like powers. Since Kate's connection to Roland has come out into the open, no one is safe—especially those closest to Kate.




As Roland's long shadow looms ever nearer, Kate is called to attend the Conclave, a gathering of the leaders from the various supernatural factions in Atlanta. When one of the Masters of the Dead is found murdered there, apparently at the hands of a shapeshifter, Kate is given only twenty-four hours to hunt down the killer. And this time, if she fails, she'll find herself embroiled in a war which could destroy everything she holds dear…
Release Date: July 29th 2014
Publisher: Ilona Andrews
Pre-Order Magic Breaks:
*No Spoilers for Magic Breaks
I have yet to read a novel by Ilona Andrews that I didn't love and Magic Breaks is not going to ruin my stride.
I absolutely love the world building of the Kate Daniels series, but most of all I enjoy the characters and their relationships. Kate and Curran are my favorite fictional couple and I adore how stable and awesome they are.
Magic Breaks is the culmination of the Roland story arch in the series. I will not spoil it for anyone but the resolution the main arch was crazy and very surprising. I hope you guys enjoy it as much as I did.
I am definitely looking forward to where Ilona Andrews is taking the series. I can't wait for more!
Don't Forget to Vote for the Theme for
Our TOP 5 Sundays Post on the Poll at the right sidebar!