Old habits die hard. And I plan on mur­der­ing some­one before the night is through.

Killing used to be my reg­u­lar gig, after all. Gin Blanco, aka the Spi­der, assassin-for-hire. And I was very good at it. Now, I'm ready to make the one hit that truly mat­ters: Mab Mon­roe, the dan­ger­ous Fire ele­men­tal who mur­dered my fam­ily when I was thir­teen.

Oh, I don't think the mis­sion will be easy, but turns out it's a bit more prob­lem­atic than expected. The bitch knows I'm com­ing for her. So now I'm up against the army of lethal bounty hunters she hired to track me down. She also put a price on my baby sister's head. Keep­ing Bria safe is my first pri­or­ity. Tak­ing Mab out is a close sec­ond.

Good thing I've got my pow­er­ful Stone and Ice magic — and my irre­sistible lover Owen Grayson — to watch my back. This bat­tle has been years in the mak­ing, and there's a chance I won't sur­vive. But if I'm going down, then Mab's com­ing with me...no mat­ter what I have to do to make that happen.
From Goodreads.
Publisher: Pocket
Release Date: September 27th, 2011
My Copy: eARC received from the Author.
Pages: 384
Series: Elemental Assassin Series
Genre: Urban Fantasy
Pre-Order The Book:
*Contains SPOILERS for the previous books in the series.
This is is, the culmination that every fan of the Elemental Assassin series, Gin's chance to revenge the murder of her family and finally destroy Mab Monroe.
Jennifer Estep has created quite an unique world with this series. not to mention making an Assassin the leading lady and getting us all to care for her. The world building is fantastic and the characters quite compelling, entertaining and impossible not to love.
Spider's evenge is the book we have all been waiting for and after the events of Tangled Threads, we can all guess how this story is going to end. However, it is the journey that makes it all worthwhile and Jennifer brings out the big guns for this one. After all, killing the baddest bitch on the blog van't be a picnic at the park, can it?
I have only a couple complaints about Spider's Revenge. One is my usual one, the repetitive discourse throughout the novel. That utterly annoys me and can be quite frustrating.
The other was that, since we knew that the Mab story Arc was coming to an end in this book, the surprise factor as to how it all ended was almost null.
On the bright side, Team Owen fans will definitely be happy with book, as will Finn's fans, I guarantee! Also, I quite liked how Spider's Revenge ended, since the next novels will have a different Arc, the ending made me curious to see what's to come.
All in all, Spider's wasn't my favorite in the series, but it was a nice end to the first Arc in this series. I for one am hoping for many more Arcs to come. If you are a fan of the series, I totally recommend Spider's Revenge. If you have yet to check out the series, give it a shot =)
Next On The Elemental Assassin Series:
Expected publication: February 28th 2012 by Pocket
Previously On The Elemental Assassin Series: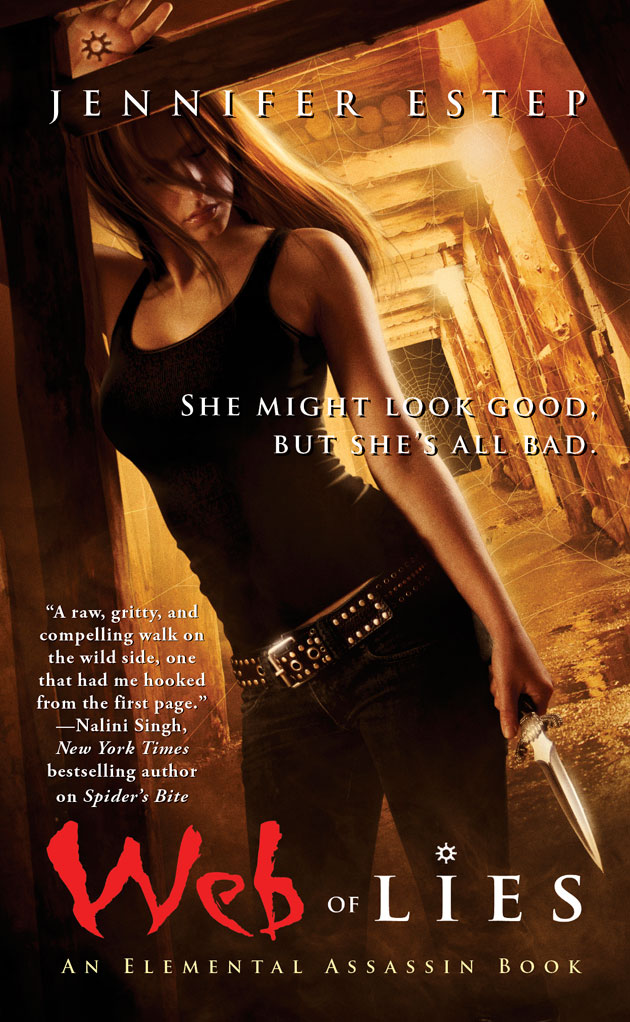 My Review of Web of Lies & Venom
Don't Forget to Vote for the Theme for
My TOP 5 Sundays Post on the Poll at the left sidebar!
Thanks so much for tuning in and I'll see you soon!
xoxo,