When did you first start writing?
More than 20 years ago, but it didn't work, at first. I had the idea that I'd write some mystery short stories (since that's what I was reading a lot of then) and get them published in some magazines. So I wrote some stories (which, looking at them now, really, really suck), sent them off to the top mystery magazines, and waited for my checks to arrive. Imagine my amazement when all I got was rejection slips. So I decided writing fiction wasn't for me. Fifteen or so years later, I gave it some more thought – and so, here we are.
Have you always enjoyed Fantasy?
I liked fairytales as a kid. The classic Disney movies like "Snow White" and "Cinderella" were being re-released in those days, so I got to see them. Even then, I may have been a little warped. I was probably the only 9-year-old watching "Cinderella" who thought Malificent, the evil queen, was hot.
Why writing Urban Fantasy?
It's what I like to read.
Were there any Books, Movies or Writers that have inspired you?
A lot of what I write can be considered paranormal mysteries or occult detective stories. I became interested in the genre after watching a couple of made-for-TV movies back in the 1970s: "The Night Stalker" about a vampire loose in Las Vegas (the movie, not the series that followed; even Darren McGavin hated the series) and "Spectre" about a couple of occult investigators seeking out demonic evil.
What is your favorite subject in the Urban Fantasy Realm?
See above.
Favorites:
Favorite Paranormal themed Movie?
"Constantine"


Favorite Paranormal themed TV Show?
"Millennium"
Favorite Paranormal themed Book?
"Anno Dracula," by Kim Newman
Favorite Author?
Harlan Ellison
Favorite Urban Fantasy Author?
Kim Newman
Favorite Genre that is NOT your own?
Lesbian porn
Favorite one of your Books?
The next one.
Who is your favorite of your own characters?
Stan Markowski. He's the kind of cop I'd want to be, if I were a cop.
Which was the hardest to write?
The demon who is called Ashley in "Sympathy for the Devil." I had to keep stopping
myself from making her too cute.
What would you be if not a writer?
A master criminal. I hear the pay is pretty good.
If you Could be a Paranormal Being, Who would you be?
How do you know I'm not?
If you could meet any Urban Fantasy Character out there, Who would you like to meet?
Fox Mulder, so I could tell him, "No, dummy, the truth ISN'T out there."
Quickies:
Vampires or Werewolves? Vampires
Zombies or Unicorns? Those are the choices? Seriously?
Angels or Demons? Demons
Reading or Writing? Reading
Print or eBook? Print
Hardback or Paperback? Hardback if I'm selling; paperback if I'm buying.
YA novels or Adult novels? Adult
Library or Bookstore? Bookstore (if I can find one these days)
The Movie or The Book? The Book.
PNR or UF? UF is PNR without the mush – definitely UF.
What is your favorite part of the writing process? Typing "The End"
What is your least favorite part? Typing "Chapter 1"
Can you talk about Hard Spell to us?
It's set in an "alternate universe" where supernatural creatures are real, and everybody knows it. The "supes" are citizens now. But they still break the law, sometimes. When they do it in Scranton, Detective Sgt. Stan Markowski of the Occult Crimes Unit is the guy they call.
What are you working on right now?
I'm working on "Evil Dark," the sequel to "Hard Spell." Somebody in the Scranton area is making supernatural "snuff films" and selling them on the black market. Stan markowski is going to find the perp and stop him – permanently.
Do you have any advice or tip to those like me that want to become a published Author someday?
Somebody, I think it was Andre Norton, explained that becoming a writer is a simple, three-step process. 1. Place butt in chair. 2. Write. 3. Repeat.
Anything you would like to say to your fans out there?
I love you all. I just wish there were more of you.
Thank you so much for being here!
Find out more about Justin on his website: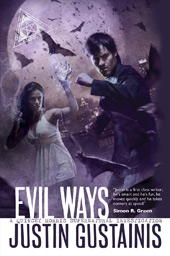 Win a SIGNED Copy of "Hard Spell" by Justin Gustainis!
INTERNATIONAL!
Ends August 16th!
To Enter:




Leave a comment or question to Justin!

&

Please leave an email or a way to contact you!




That's all =)
Don't Forget to Vote for the Theme for
My TOP 5 Sundays Post on the Poll at the left sidebar!
Check Out My Design Blog:
Great Anti-Piracy Badge Up for Grabs!
*Great Freebies Available!
Sign Up for…
Thanks so much for tuning in and I'll see you soon!
xoxo,