Lady Alexia Maccon, soulless, is at it again, only this time the trouble in the air is not her fault. When a mad ghost threatens the queen, Alexia is on the case, following a trail that leads her deep into her husband's past.

Top that off with a sister who has joined the suffragette movement (shocking!), Madame Lefoux's latest mechanical invention, and a plague of zombie porcupines - and Alexia barely has time to remember she just happens to be eight months pregnant.

Will Alexia be able to figure out who is trying to kill Queen Victoria before it's too late? Is it the vampires again or is there a traitor lurking about in wolf's clothing? And do they really have to take up residence in Lord Akeldama's second best closet?
From Goodreads.
Publisher: Orbit
Release Date: June 28th/July 1st, 2011
My Copy: Kindle Edition | Bought.
Pages: 384
Series: Parasol Protectorate Series
Genre: Paranormal Steampunk
Buy The Book:
*NO Spoilers for Heartless.
The Good: YES! For all that I wanted more Alexia and Maccon interactions, Heartless was full of it and it was perfect! The Plot was also brilliant and had me guessing until the end.
The Bad: I feel like everyone treated Alexia badly at some point, excluding Maccon, he was amazing! I also wasn't a fan of the Ghostly interruptions, I didn't really find them necessary.
The Awesome: Gail Carriger has such a sofisticated and delightful sense of humor. I can think of many instances where she had me laughing out loud. From Alexia talking to the Infant-inconvenience to her giving birth, HILARIOUSLY AMAZING!
Previously On The Parasol Protectorate Series: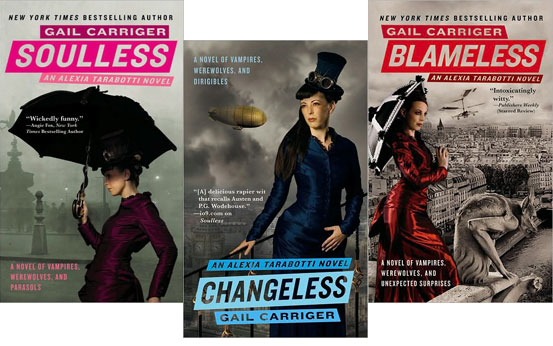 Next On The Parasol Protectorate Series:
Coming on March 1st, 2012!
Kitty Norville is back and in more trouble than ever. Her recent run-in with werewolves traumatized by the horrors of war has made her start wondering how long the US government might have been covertly using werewolves in combat. Have any famous names in our own history might have actually been supernatural? She's got suspicions about William Tecumseh Sherman. Then an interview with the right vampire puts her on the trail of Wyatt Earp, vampire hunter.


But her investigations lead her to a clue about enigmatic vampire Roman and the mysterious Long Game played by vampires through the millennia. That, plus a call for help from a powerful vampire ally in San Francisco, suddenly puts Kitty and her friends on the supernatural chessboard, pieces in dangerously active play. And Kitty Norville is never content to be a pawn. . . .
From Goodreads.
Publisher: Tor Books
Release Date: July 28th, 2011
My Copy: Kindle Edition | Bought.
Pages: 322
Series: Kitty Norville Series
Genre: Urban Fantasy
Buy The Book:
*NO Spoilers.
The Good: YES! After a certain disappointment with "Kitty's House of Horrors" and the great "Kitty Goes to War", I feel that Carrie Vaughn has gone back to all I have always loved about this series in Kitty's Big Trouble. A lot of Ben and Kitty goodness, a lot of Cormac and a lot of great action.
The Bad: No big complaints, but I'm still not a fan of the Cormac storyline =/
The Romance: YAY! Ben and Kitty are so adorable together! One of my fave couples and they get a lot of lovely screen time. Awesome!
Previously On The Kitty Norville Series: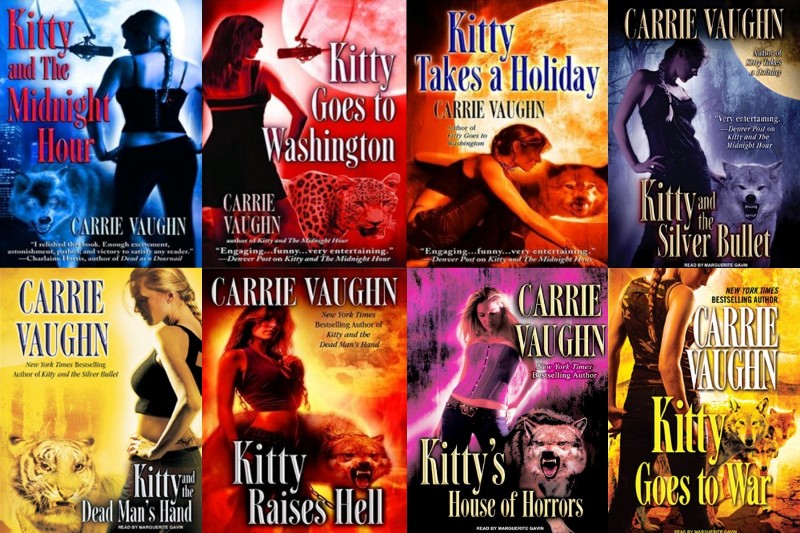 Next On The Kitty Norville Series:
Coming on August 16th, 2011!
and "Kitty Steals the Show" on April 1st 2012!
Now I can't wait to see who is in YOUR List of Bookish Pet Peeves!
Write you post and leave your link so i can check it out!
Hope you guys have fun with it!
Don't Forget to Vote for the Theme for
My TOP 5 Sundays Post on the Poll at the left sidebar!
Check Out The BHSV GIVEAWAYS:
GIVEAWAYS END ON JULY 15th!
Check Out My Design Blog:
Great Anti-Piracy Badge Up for Grabs!
*Great Freebies Available!
Sign Up for…
Thanks so much for tuning in and I'll see you soon!
xoxo,