Hi guys! How was your week? Mine was pretty great, after a little reading slump I finished some great books and wrote some reviews too, YAY! =)
Let me spread the love and share a great blog I found out last weekend through the Hop! I followed a lot of new blogs, but I made a couple new book blogging friends too…
Thanks to the Hop I met my Book Soulmate! Not only we have the same taste, she is also Brazilian and she also blogs in English! We even live in the same city! How cool is that! We're also meeting in person this weekend, YAY!
Check out Barbara's Blog: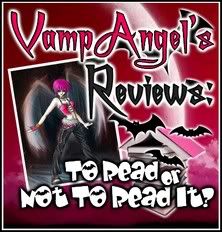 *click on the image above to enter!
Today Jen asked us to talk about some of your favorite authors and why they are your favorites!
I have so many favorites and I follow over 100 book series, but there are those authors that started my love for books and those that are simply an authomatic buy for me whenever a new book is out =)
Some of them are:
Agatha Christie

Ilona Andrews

MaryJanice Davidson

Richelle Mead

Jeri Smith-Ready
What is not to love about these ladies' books?
######
Book Blogger Hop was created by Crazy For Books based on the #FollowFriday concept on Twitter! To add your link and join the fun and check out the rules, click HERE!
Follow My Book Blog Friday was created by Rachel from Parajunkee View. Click HERE to join the fun and check out the rules!
######
If this is your first time on my blog, here is a little bit about me and my little corner of the Book Blogiverse: I do a lot of book reviews and Author Interviews on my blog. I also have weekly book giveaways and Follower appreciation giveaways from time to time. You can see the Interview and author Giveaway schedule on the right sidebar and the current giveaways going on on my left sidebar =)
I have an awesome Creative Writing contest going on right now where you can Re-Write the ending of a book or series and your story will be judged by me plus 4 awesome authors: Larissa Ione, Stella Price, Angie Frazier and Dakota Cassidy!
First Prize is a 20$ Gift Card at an online store of your choice! There three places in the contest, for more info check it out HERE!
Don't Forget to enter My Giveaway:
You can win an eBook Copy of Beauty Tempts The Beast!
Click HERE to enter!
Ends July 12th!
Good Luck!
My Creative Writing Contest:
Doing It Write!
Re-Write the end of your favorite Book or Series for a chance to win somegreat prizes!
Top 5 will be picked by Authors:
Larissa Ione
Dakota Cassidy
Angie Frazier
&
Stella Price
Click HERE or on the image bellow for more info!
Thanks so much for tuning in and I'll see you soon!
xoxo,