Hey Guys! Another Friday has rolled around and It's Hopping time again =D
First of all I need to take a second and thank all my Tweeps for being SO freaking amazing and helping me reach over 1000 Blog Followers!
And I'd like to Thanks every single one of you for being my follower!
I honestly put my heart in managing this blog and knowing that you all enjoy is all the payment I need =D
Just to make something clear, Since the Hop has been having over 300 links up, OMG, I just can't visit them all… So, I will only stop by the new blogs on the hop and on the blogs of those who stop by here =) I still believe that's fair… no? I do feel guilty about that =/ but I need to focus and do some reading and writing this weekend.
My week was pretty busy, but for some reason I have become organized, which has shocked myself most of all. I started a Books Read in 2010 spreadsheet and I even have a Reviews Calendar now, it's too much for my messy little head LOL
You can check out all 130+ Books I've read this year by Author or Title, including review links HERE!
I actually had a bit of a change in the template design courtesy of Parajunkee and did some more re-organizing of my sidebars. I have added a Blogroll, and if you don't see you blog there (left sidebar at the bottom) there is a form there where you can let me know your blog and I'll add it =)
I'll host Flashback Friday every Friday and I will be adding Mr. Linky on the post so if you feel like joining, you're more than welcome to do it. You can go back as soon and as far as you'd like on the Flashback Friday, 1 month / 1 year, it's up to you.
Click on the feature's image above for more info about it and to access my first and second post with the meme. Or you can just go to the main blog page to find it =)
This week's post is HERE!
Ok, so let me share these week's posts with you:
Reviews:
Interview:
I also have a SIGNED book giveaway w/ Kelly Meding going on, you can find the links to them on my left sidebar near the top or at the end of this post =)
Books Read This Week:
I wrote a post about Bookish OCD at Book Lovers Inc. Yesterday.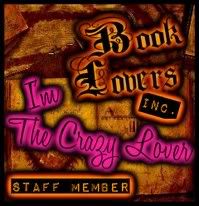 *click on the image above to go read it!
In the spirit of spreading the love to some great blogs I've found through the hop, I'll feature one every week on my Hop post…
Check out THE NORWEGIAN BOOKGIRL's Blog:
*click on the image above to check it out!
Every week Jen from Crazy-for-Books asks us a question to answer on the Hop, this week's is:
Who is your favorite new-to-you author so far this year?
Wow, that's a tough one… hmmm, I'd have to say that so far my favorite new-to-me-author is:
Gena Showalter!
I finally read her Lords of The Underworld series and Loved them!
######
Book Blogger Hop was created by Crazy For Books based on the #FollowFriday concept on Twitter! To add your link and join the fun and check out the rules, click HERE!
Follow My Book Blog Friday was created by Rachel from Parajunkee View. Click HERE to join the fun and check out the rules!
######
If this is your first time on my blog, here is a little bit about me and my little corner of the Book Blogiverse: I do a lot of book reviews and Author Interviews on my blog. I also have weekly book giveaways and Follower appreciation giveaways from time to time. You can see the Interview and author Giveaway schedule on the right sidebar and the current giveaways going on on my left sidebar =)
I have an awesome Creative Writing contest going on right now where you can Re-Write the ending of a book or series and your story will be judged by me plus 4 awesome authors: Larissa Ione, Stella Price, Angie Frazier and Dakota Cassidy!
First Prize is a 20$ Gift Card at an online store of your choice! There three places in the contest, for more info check it out HERE!
Don't Forget to Vote on which will the Theme of this weekends Top 5 Sundays on the Poll at the left sidebar!
and
Don't Forget to enter My Current Giveaways:
You can win a SIGNED copy of "As Lie The Dead"!

Click HERE to enter!
International!

Ends August 2nd!

Good Luck!
My Creative Writing Contest:
Doing It Write!
Re-Write the end of your favorite Book or Series for a chance to win somegreat prizes!
Top 5 will be picked by Authors:
Larissa Ione
Dakota Cassidy
Angie Frazier
&
Stella Price
Click HERE or on the image bellow for more info!
Good Luck!
Thanks so much for tuning in and I'll see you soon!
xoxo,