Hey Guys! Wow, it's still Friday and here I am posting for the third time LOL… I just felt inspired and decided to make some Team button for a few of my favorites…
If you like it, please feel free to grab one, two or even all of them =)
Ok, so firstly I have one that's a bit sad. I Love the Rachel Morgan Series by Kim Harrison and it doesn't matter how many books later it is, I stll can't deal with Kisten dying. I miss him and in my heart he will always be Rachel HEA!
So, here is my Team Kisten button =)
I see a lot of people showing off a Team Damon button and even though I do love him, I am all for Team Stefan:
Eric is HOT! There is no doubt of that and just like every other Sookie fan I am enjoying him and Sookie together in the books. However, like I have stated on my Dead in The Family reviews, I do not believe he is her HEA and even Charlaine Harris has said so herself. I have this feeling that Sam is the guy and I can totally see that.
Go Team Sam!
I am dying for the next Chicagoland Vampire book! I also can't wait for more Merit and Ethan time! Here is my Team Ethan button: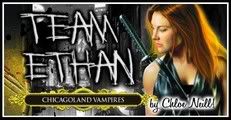 Last, but not least, the love of my life one of my favorite characters EVER! Dmitri… I am still waiting for my copy of Spirit Bound and I do like Adrian, but Dmitri belongs with Rose, Forever!
Team Dmitri!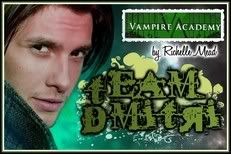 I have two new buttons to add here guys hehe =)
@dy0ulee and @HeatherKegler from twitter have asked to make Team Puck and Team Ash button for the Iron Fey series fans… so here they are:
There you go, my Friday & Saturday insanity LOL! What did you guys think of the Buttons??
Oh and you must have noticed the new Header… The awesome Parajunkee did it again and rocked it! Im not giving up on the old one, but I'll keep them on rotation hehe
That's it for now… I wish you all a great weekend!
Don't Forget to vote on my Poll on the Top-Right Sidebar!
and
Don't Forget to enter my Contests & Giveaways:
Doing It Write!
Re-Write the end of your favorite Book or Series for a chance to win somegreat prizes!
Top 5 will be picked by Authors:
Larissa Ione
Dakota Cassidy
Angie Frazier
&
Stella Price
Click HERE or on the image bellow for more info!
You can win a SIGNED copy of The Better Part of Darkness by Kelly Gay!
Click HERE to enter!
International!
Ends June 21st!
Good Luck!
Thanks so much for tuning in and I'll see you soon!
xoxo,