I'm extending the original entry date to until August 11th! 
Have you ever reached the end of a novel or a book series and thought that you could have come up with a better finale?
Have you ever felt that you had a better idea as to how that series you love should have ended even if you enjoyed the original conclusion?
Have you ever felt that your favorite book just needed a couple more pages or an epilogue with a little more of the Happily Ever After?
Well guys, here is the thing… the other day I woke up out of nowhere with this crazy idea that I thought might be a bit farfetched… However I am happy to say that it isn't so anymore and that I get to share it with you and even offer you a very cool new contest! YAY!
This little blogger here did not misspell anything on the title or on the image above… I meant to write "Write" and not "Right", Why? Because this will be a creative writing contest; well, to be more specific it's a creative re-writing contest….
You have the chance to re-write history!
Take that novel that the ending disappointed you…
or your favorite series that you feel could have had a bit more meat in its conclusion…
and RE-WRITE the way you feel like it!
You have between 250 words and 1500 words to put your vision into words. You can even write a detailed summary as to how the ending should have been, or an extra dialogue or love scene you wish had happen at the end… Go nuts!!!
*Please make sure that it is an author that doesn't mind Fanfics…
How Will The Contest Work:
The will be two phases in the contest. In the first phase all entries will be read and rated by a panel of 5 judges, Me + 4 Published authors… who I will name later in this post =)
The rating system will be based on creativity and style alike…
From this first Judging, the Top 5 texts will be published on this blog… Then the readers will have a couple of weeks at least to vote on their favorites…
The Top 3 most voted will win 1st, 2nd and 3rd Place =)
1st Place: 20$ Gift Certificate at an Online store of your choice!
2nd Place: Two books by Claudia Gray - Evernight & Stargazer
3rd Place: Bone Magic by Yasmine Galehorn
Stella Price
- Author of "Entwined by Fate" and The Eververse Series.
Angie Frazier
- Author of "Everlasting"
Dakota Cassidy
- Author of The Accidental Friends & the In The Hell Series
Larissa Ione
- NYT Bestselling Author of The Demonica Series & Co-Author of The ACRO series, written as Sydney Croft w/ Stephanie Tyler
If you want to join and enter in the contest, please Fill Out The Form HERE or Bellow! 
To share the Love and let people know you are participating in the contest you can grab one of the buttons bellow =)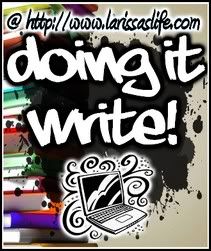 This Contest is International and Phase One will run until August 11th!
Looking forward to seeing your entries! =)
Thanks so much for tuning in and I'll see you soon!
xoxo,