There is an awesome new contest going on @ Flipping Pages for All Ages together with Wastepaper Prose!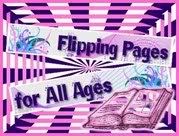 Prizes will be split up and some will be put into packs. Instead of having everyone enter for everything, you can select which prizes you would like to be entered for. In the form, just check the boxes to the ones you would like to win, all of your entries will count towards each prize that you enter for. We did this because some of you may not want/need a critique, or maybe you already have some of the books we are giving away. Unfortunately we can't send prizes out internationally, but we will each be giving away a book from the book depository for up to $15 to our international followers, so thats 2 international winners!
Click HERE for more info!
Get entering and good luck!! :)
Don't Forget to enter my giveaways:
My Powerful Chicks Theme Prize Pack HERE!
My Paranormal YA Giveaway HERE!
My Heinous Villains Giveaway HERE!
For more info on the giveaway and links for each theme Click on the Image bellow!
All smaller giveaways end on May 16th!
International!

You can win an eBook copy of Captured or The Beauty and The Feast by Julia Rachel Barrett!
Your Choice!
International!
Ends April 26th!
Thanks so much for tuning in and I'll see you soon!
xoxo,