Hey everyone! How you guys doing? I hope you've had a wonderful week =)
New week just starting and it's getting closer to my big move. I'll be going to Brazil on April 1st and no, it's not a joke =P
I am really looking forward to going, my best friends are really happy to have me back closer to them and since I haven't seen my "husband", Moischa in almost three years, it will be be an amazing reunion =)
Well, enough about m… oh, it's Welcome to Larissa's Life, so i guess it's never really enough about me =)))
This week has been pretty weird for me… I went out with some friends and there is so much I will miss about Tel Aviv, but at the same time I spend so much time at home, reading and blogging/tweeting right now, that it doesn't feel like it will make much of a difference where I am LOL
I really tried to get my reading on this past week and was able to read 6 books, bringing my total in 2010 to 55 so far =)
Book Read This Week:
Abandon The Night by Joss Ware
Roadkill by Rob Thurman
Wolf Games by Vivian Arend (ARC)
Talk Me Down by Victoria Dahl
Start Me Up by Victoria Dahl
Lead Me On by Victoria Dahl
The books written by Victoria Dahl, were my first foray into contemporary romance and I have to say I enjoyed them much more than I thought I would. I mean, I still crave the supernatural/paranormal/preternatural elements UF and PNR bring, but I will definitely read some more books like hers =)
Right now I am reading the eARC for the second book in Teresa D'Amario's True Mates series and I am really happy do get me some werewolf loving hehe
This week I reviewed 2 books and 2 full series:
*click on the titles to reach the reviews =)
I also had Helen from Helen's Book Blog on my New Blogs on The Block feature and had the immense pleasure of interviewing one of my favorite author's EVER, Jeaniene Frost… and she is also giving away a signed copy of her new book, First drop of Crimson to one of my lucky readers =) You can get more info HERE!
I think that after having Jeaniene Frost at my blog, the biggest thing that has happened around here this week was the debut of my new design! Created by the amazing Rachel from Parajunkee's View. She put to life all my crazy ideas and I just am IN LOVE with it =)
I bought so many books this week that i am not even going to announce them LOL =) I did receive a few for review and they were:
Dark Sucession by Teresa D'Amario (ARC)
Vampire Kisses by Laura Stamps (ARC)
The Killing Edge by Heather Graham (ARC – NetGalley)
When Good Wishes Go Bad by Mindy Klasky (ARC – NetGalley)
I have received some requests from bloggers to have a supporting role on Larissa's Life and I want to say that I have not made a decision yet, but I will make one soon. I have been going crazy keeping up with my reading and posting schedule and organizing things here for the move. I am really sorry for the delay =)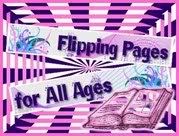 This week Sherry from Flipping Pages for All Ages announced the winner of her Sherrilyn Kenyon giveaway, reviewed Perfect Chemistry by Simone Elkele, had an Author Chat with C.J. Omololu, remade the cover for City of Angels by Cassandra Clare and Participated in the Author Appreciation week =)

I got some bloggy awards this past 2 weeks. a couple of them were repeats, so i will only mention the bloggers who were very sweet in giving them to me =) I will be passing along the one that I had not received before now…
I received the One Lovely Blog Award and the Beautiful Blogger award from:
I got the Kreativ Blogger Award from:
Rules:
List 7 things about yourself and pass this award to 7 blogs you find to be creative…
About me:
I Love the color orange… well, duh! LOL
I have duo citizenship, Brazilian and Israeli
I speak 3 languages. Some Hebrew besides Portuguese, English and Spanish.
I name all my gadgets after male fiction characters from TV, movies or books.
I am an only child.
My mom lives in Portugal.
My first and last car was a purple Ford KA and I called it the "Great Grape"
I will pass this award along to these 7 great blogs:
Last but definitely not least, I have some Giveaway Winners to announce =)
Terry Spear Giveaway!
The winner of one Signed Book from Terry's Heart of The Wolf Series is:
Patti
from Book Addict
Rob Thurman Giveaway!
The 4 Winners are:
Signed copy of Deathwish: madmagz

Signed copy of Deathwish: Stephanie G.

Signed copy of A Trick of Light: donnas

Signed copy of A Trick of Light: Reena
Seanan McGuire Giveaway!
The winner of a Signed copy of A Local Habitation is:
Abigail
CONGRATS TO ALL THE WINNERS!
You have 48hrs to contact me @ larissa@larissaslife.com
or
I will pick another winner!
*I will not be emailing the winners anymore, so please contact me asap! Thank you! =)
That's it for me today my dear readers.
Don't Forget to enter
To Win a SGNED Copy of First Drop of Crimson,
Click HERE!
This Giveaway will run until March 18th!
It's INTERNATONAL!
Thanks so much for tuning in and I'll see you soon!
xoxo,