Hey Everyone! I hope you all had a great Valentine's Day! As you all can see I am starting a new feature today =)
Previously on Larissa's Life... will be my weekly round-up post, where I will take a look at the books I read, posts, awards, memes, news and more that happened during the previous week.
Along with all that I am introducing today as well my Affiliates program, which I am calling: "I have a Supporting Role on Larissa's Life". To start I will be opening 5 spots for supporting roles. What is the advantage of being a member?
I will post your news, giveaways and so on every week here on mt round-up post.
You'll get extra entries on my giveaways
You will be listed in a special place on my sidebar
You get a special Larissa's Life button for your blog
More advantages to come...
As of now I have 4 spots left, so if you are interested in joining, please email me at larissa@larissaslife.com
and put "Supporting Role on Larissa's Life" on the email title.
I will be considering applications and will choose members in accordance of compatibility. I reserve the right to refuse your application, but will keep it for further consideration.
I have the pleasure to introduce the first Supporting Role on Larissa's Life: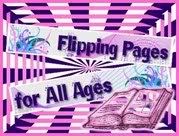 Her Giveaways:
The Body Finder ends 2/26
Firespell and swag ends 3/5/10
harrlequin romance novels ongoing
Welcome to Larissa's Life Sherry!
####################


I read 37 Books so far this year!


Posts of The Past Week!
Books Read in the past week!
*All links take you to Goodreads!
Books Bought in the Past Week!
*All links take you to Goodreads!
Last but not least I got another one from


Thank you ALL for all the Awards!!
You guys make my days brighter!
####################
For some news... A little while back I told you guys on twitter about a friend from college that decided to write her final project in Journalistic Writing class about me. She was so sweet and wrote an amazing article. I would Like to share it with you guys and Thank Aidai, for being so awesome!!!
This is her Feature Article about me:
"
Welcome to Larissa's Life
BY AIDAI SEIDAKMATOVA
IDC Herzliya
Larissa Piva Benoliel is a 26 years old blogger who reviews fiction books of well-known writers and prestigious
New York
publishers like
Dorchester
. Two years ago, she moved from
Brazil
to
Israel
where she enjoys Interactive Communications studies at IDC Herzliya and lives in Tel-Aviv, her favorite city in the world. She enjoys both her virtual life and real life. However, her real life did not always smile at her; she has had to overcome enormous obstacles on her way to success.
Larissa was still a child when she had to face a harsh reality – she was diagnosed with "Juvenile Rheumatoid Polyarthritis" (JRP), a rare and incurable disease, which causes chronic inflammation of joints. A very small percentage of the population suffers from JRP.
"At age eleven, I started waking up at night with my knees locked; I couldn't stretch them or bend them… either way", said Larissa. Being a very active child who was about to enter the Inter-school Olympics, Larissa suddenly realized that she had to avoid the things she loved the most. "With that, I had to stop everything. I couldn't do any more sports. I couldn't do anything." Since she was forced to participate in limited physical activity and constantly depended on medicine, she started gaining weight. This weight gain perpetuated her to have lower self-esteem than she already had.
She was neither happy at school, with kids mocking her limping nor at home with a very strict and dominant mother. For Larissa, sleeping was sort of an escape; she lived to sleep since her reality was too hard to stand. Three years passed in a dark depression before Larissa realized that she had to get out of it herself: "You know what? I said… No one is going to come and pick me up from this so I better get out of it by myself." It took her a year, but the important step for her was not letting her mother instruct and test her before exams. "I prefer to have a 70 that I got by myself than a 90 getting spent with my mom", said Larissa. Since then she started to become more confident and independent.
At the age of 14, her parents divorced, and she moved with her mother and stepfather from
Rio de Janeiro
to Porto Velho, a place in the North of Brazil. She said it was a tipping point in Larissa's life. Finally, she was in a place where no one knew her. At last, she could start a new chapter in her life. She went to a new high school and even made new friends. Larissa always wanted to study Journalism, but in such a small place the closest degree was English Language, and since she has always been passionate about English, she decided to go for it.
During her first year, a college mate told her about teaching in a local language institute. At 17, Larissa started to teach English to adults. After four years of teaching, at the beginning of 2007, she decided to visit her father, who had made Aliyah to
Israel
. "It was my second day in
Israel
and I was like… I am not going back! I felt so much at home…", said Larissa with a smile. She went back to
Brazil
in order to officially go through the Aliyah process. Six months later, she was home, she was in
Israel
.
Larissa heard about the IDC from her father and decided to apply. She did not mind starting from the beginning as she had done so many times before. It was a regular school day when she came up with the idea to start a blog. So she launched a blog called "Welcome to Larissa's Life – A Real Reality Show of My Life" two years ago on the day of her five-month in
Israel
celebration. "If I am not online, I am reading. Usually, it's both" says the profile of her blog.
In 2009, she read more than 365 books, most of which are electronic books. The idea to start reviewing books came up when she saw her twitter friend chatting with an author. "You know what? Books are such a huge part of my life. Why don't I start reviewing them?", thought Larissa. It was November 14, 2009 when she posted her first review. "That's it! I started reviewing every day… It went crazy because I started getting followers… 10. 15. 20… Every single follower was a celebration! ", said Larissa with a spark in her eyes. Today, she has 385 followers on her blog and over 840 followers on twitter. People from all over the world read her posts, people that share Larissa's two greatest passions: books and the Internet.
Gradually, authors themselves started sending Larissa books for review. She e-mailed her favorite writers and became friends with some of them. A big moment arrived when Larissa received an Advanced Reviewers Copy (ARC) from one of her favorite writers. Then, another writer e-mailed an e-book for review. And one more next day... And one more two days after…
Today, another writer wrote her on twitter and wants to give a book for review. Currently, Larissa is working on a newsletter for her blog. Besides that, she has a new event with one of the authors set for March and an interview and a give-away contest scheduled for April. Among other future plans of Larissa is to write an interactive autobiography and three fiction books. Larissa is a person who does not wait for things to happen; instead, she makes things happen – with enthusiasm and a spark in her eyes."
*What did you guys think??? I LOVED it!!!! She is soooo awesome!! =)))
To wrap up today's post, The Winner of a Signed copy of Blood Magic by Eileen Wilks is:
Congratulations!
You have 48 hours to respond to my email! =)


Giveaways Going on Larissa's Life right now!


Win a SIGNED copy of Come Hell Or High Water by Michele Bardsley
HERE
!
What are you waiting for to enter??
Thank you so much for tuning in and I'll see you soon!
xoxo,