Charlie's the kind of boy that no one notices. Hell, even his own mother can't remember his name. And girls? The invisible man gets more dates.
As if that weren't enough, when a mysterious clockwork man tries to kill him in modern day Philadelphia, and they tumble through a hole into 1725 London, Charlie realizes even the laws of time don't take him seriously.
Still, this isn't all bad. In fact, there's this girl, another time traveler, who not only remembers his name, but might even like him! Unfortunately, Yvaine carries more than her share of baggage: like a baby boy and at least two ex-boyfriends! One's famous, the other's murderous, and Charlie doesn't know who is the bigger problem.
When one kills the other — and the other is nineteen year-old Ben Franklin — things get really crazy. Can their relationship survive? Can the future? Charlie and Yvaine are time travelers, they can fix this — theoretically — but the rules are complicated and the stakes are history as we know it.
And there's one more wrinkle: he can only travel into the past, and she can only travel into the future!
(
Publisher: Avon Impulse
Release Date: June 4, 2013
Buy the book
Time travel is sometimes hard to understand, but this one was pretty easy to follow and I totally appreciated this in Untimed. Charlie doesn't know he's a time traveler and just about to find out from his dad when their conversation gets interrupted and his dad disappears.
But something strange is going on and he follows this weird-looking man into a hole and ends up IN THE PAST. Charlie can only travel backwards. In this new place he meets another time traveler, Yvaine, who can only travel to the future, explains things as best as she can to him. But then they are caught up in a plot that changes the future as we know it.
Now Charlie and Yvaine are jumping to the future to find answers so they can go back to the past and right the wrongs they have created. Charlie finds out more about time traveling, meets back up with his dad and aunt, and finally gets to the point where he can correct his mistakes...but that leaves us with another new future. And this is where we have to look forward to book 2.
I really enjoyed this book. It was fast-paced and fun. I liked Charlie and Yvaine. They are teenagers figuring out who they are and their role as time travelers, what they are allowed to do and what they shouldn't. Every action causes a ripple and it's hard enough to do the right thing only to have your actions have serious consequences in time.
I'm looking forward to book 2.
Find Andy Gavin Online:
Ebooks, Paperbacks, & Swag for both Untimed and The Darkening Dream.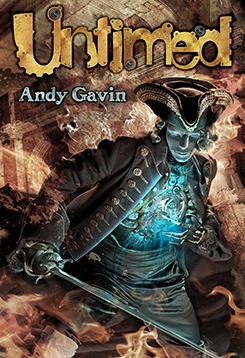 Fill the Rafflecopter bellow to win!
Don't Forget to Vote for the Theme for
My TOP 5 Sundays Post on the Poll at the RIGHT sidebar!